Introduced by MoboTap, the Dolphin Browser is one of the very first browsers that has been created as an alternative platform for browsing for Android. Known as a secure, safe and super-fast browser for both iOS and Android operating systems.
It enables the users to read web pages in any language they want. Almost outshining all other contemporary browsers in various ways. This browser has become a favorite of the people for its amazing speed in loading web pages and incredible performance.
From offering excellent modern features to supporting various add-ons, this browser offers a lot more than any other browsers. And with its latest version being available in the market, the whole experience of browsing online has found a whole new definition.
Dolphin Browser – Best Features
This Web Browser is basically known for some of its most amazing features. It has won the hearts of millions of users. Such as Flash Player support, clean and attractive user interface, personalized search options and much more.
While it has worked towards allowing the users to delete traces of all the downloads, it has always strived to offer its users an opportunity to hide their browsing records from the eyes of others who have access to their devices.
Serving topics from more than 300 sources. This browser presents the content of the web in a magazine-style based format in front of the users. Be it performing a personalized search, or syncing the browsing history, passwords or bookmarks or accessing the internet through creating personal gestures, this browser has got them all.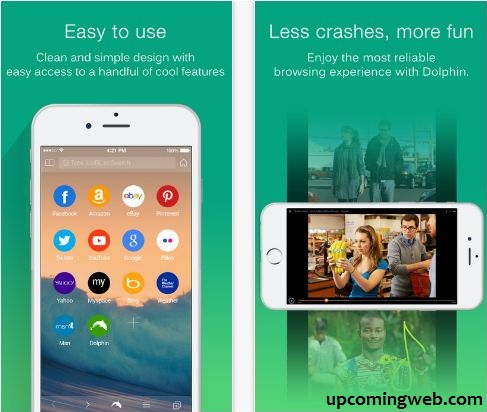 What's New
Focusing on the main objective of making the browsing experience of the users more enhanced and easier. The updated version of the browser features a refreshed finishing of all its existing features while adding some new ones as well.
As the dolphin Wi-Fi broadcast will enable the users to share links with other Dolphin users in a moment. The voice search on the internet has come as a finer one.
From offering improved Crash fixes to an upgraded autofill feature. The updated version of Browser also provides some fixed delete options for the app of the Gboard Keyboard.
Dolphin Web Browser – Download & Install
Well, downloading the Dolphin App is probably the easiest thing to do for anyone. Yes, downloading this amazing browser doesn't require any special skill at all, rather comes as a simple job that can be done by anybody.
Just like downloading any other app on an Android tablet or phone. This browser can be downloaded from its official website, Google Play Store or any other reliable website.
All one has to do is simply click on the 'download' tab. And in minutes the browser app will be there on their phone. Once the users are done with installing this browser app, the app will be seen on the home screen, allowing the users to have quick access.
Known for its speed, awesome functionality based on gestures and ease-of-use. The Dolphin Browser, both the iOS and the Android version, has gradually come to know as one of the best web browsers introduced to date.
Download from here:   Android   iOS
Also Read: Learn other languages using Duolingo App