OfficeSuite Pro is a perfect office tool that is meant to cater to the users' needs of viewing, printing, sharing and editing any type of PowerPoint, Excel and Word documents with absolute ease.
Becoming the most downloaded office application on Google Play. This app undoubtedly declares its excellent performance that has turned its latest version into an immediate success. This app not only offers the most amazing and exclusive features but also lets one create the desired document designs as fast as possible.
The OfficeSuite also serves as the most uncomplicated way of converting various documents into PDF ones. And a perfect tool to let the users manage their docs as per their wishes. This feature-rich office solution, now coming as preloaded by various reputed manufacturers, such as Acer, Sony, YotaPhone, Amazon, etc., has already made it to over millions of downloads all over the world.
OfficeSuite Pro & Freemium Features
Exclusively designed for the Androids, but you can also download the official app on your iOS gadget. OfficeSuite helps to open multiple documents at the same time, irrespective of their different formats, such as EML, DOCX, LOG, XLSM, CSV, PPT or others. Coming in around 56 languages. This app is fully compatible with all the Microsoft document formats.
It also supports some other common document formats, such as ODS, ODT, RTF, LOG, EML, ZIP, etc. Not only it offers its support to Export to PDF option and camera scanning in PDF. But also provides PDF security and other supports, such as permission management, signature supports, annotations, etc.
As it lets the user share the documents through WiFi, Bluetooth, and email. It also supports various cloud sharing services, like OneDrive, DropBox, SugarSync, etc.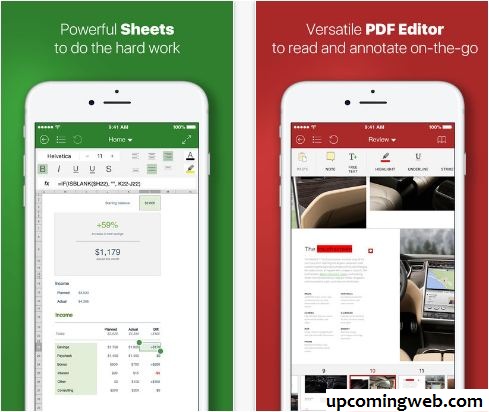 What's New in the OfficeSuite Updated Version
Unlike its previous version, the latest updated version of OfficeSuite has come with drastically enhanced speed, making the performance of this office suite faster than ever.
Apart from the speed, the new version also features a refreshed design, which makes it a lot easier for the users to use. The updated version of this app not only lets the users create custom options for page number, header, and footer. But also gives a fantastic performance in protecting individual cells and sheets in Excel as well.
Be it adding freehand drawings over the slides in PowerPoint, or casting presentations on the same network across various devices, this app allows them all. Another specialty of the updated version is that the users can now quickly sign into this app, using their digital signature.
How to Download OfficeSuite Free/Premium App?
Considered to be one of the best office apps that are available for Android devices. The OfficeSuite comes with an extremely easy download procedure. All one has to do is enter the app name with its version name. Go to the right website and simply click on the 'download' option to initiate downloading.
Download OfficeSuite Premium App:   Android   iOS
Download OfficeSuite Free App:   Android   iOS
Once the users successfully download the OfficeSuite Pro on their Android device, the next step will be to install it for starting to enjoy the amazing page designs and options offered by this excellent office tool.
Also Read: Get vShare Pro App