Do you want to install Android apps on your PC? Then BlueStacks Android emulator is the best choice. Let's see what are the system requirements to install BlueStacks 4 latest version on your PC Windows and Mac device.
What Is BlueStacks?
It is a third party software used to run any APK file that belongs to the Android platform. Using this emulator, you are able to play your favorite game like PUBG, Clash of Clans and any other game.
By using it you can officially install all Android apps from Play Store because Google Play is available in the emulator.
Minimum System Requirements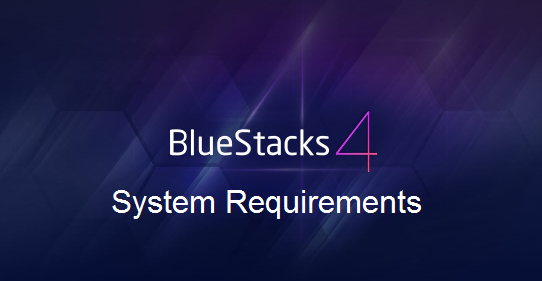 These are the minimum requirements to use the BlueStacks emulator on your computer or PC.
You should have at least Windows 7 and above operating system.
It requires an AMD processor or Intel.
Your Computer should have at least 2GB of RAM in order to use it properly.
5 GB HDD (Hard disk drive) space.
Stay up to date with graphics drivers.
These requirements will be used to install normal apps on your PC with no issues. In order to play visual games, you must and should have the below requirements.
BlueStacks 4 System Requirements
In order to improve your gaming experience, you should have the below requirements.
It works well on Microsoft Windows 10 OS.
The Processor which is used in your device is Intel or AMD Multi-Core Processor with Single Thread PassMark score is greater than 1000 and you need to enable virtualization extensions from your PC.
You should have an Intel graphics/Nvidia/ATI, Onboard or Discrete controller with PassMark score greater than or equal to 750. Here is the link to find your PC Graphics controller.
Your PC's must-have 8GB RAM or above.
HDD for your PC is SSD, Fusion or Hybrid drives required.
Have a proper internet connection to download games and Android apps using the BlueStacks emulator.
As I mentioned earlier, stay up to date with graphics drivers from Microsoft.
To Conclude…
After reading all these BlueStacks 4 system requirements, you are now ready to install Android games and apps on your PC. Now experience the magic of playing games on the big screen using BlueStacks emulator.
Must Read: How to get BlueStacks premium plan?