ClevCalc is one of the most outstanding calculator apps available for you to get to your mobile. If you are not happy with the features that the existing calculator app in the mobile delivers, you can download this app.
There's nothing to lose by having this handy calculator app on the mobile. It will make life easy for you when you are doing all the calculations.
Features
There are numerous calculator modes available in the app. All you have to do is to go through those different calculator modes and pick the best calculator mode out of them accordingly.
The most basic function out of them is the general calculator, which provides support to you with getting the fundamental arithmetic operations done. Then you can find a unit calculator, which will provide you with support to do volume, width, weight, and length calculations.
The other impressive calculator modes available to you with ClevCalc include currency converter, world time converter, discount calculator, date calculator, ovulation calculator, and unit price calculator.
As you can see, it can provide numerous calculating options, which you will come across the need to do on a daily basis. When you encounter such a requirement, all you have to do is to stick to this calculator app and get the job done.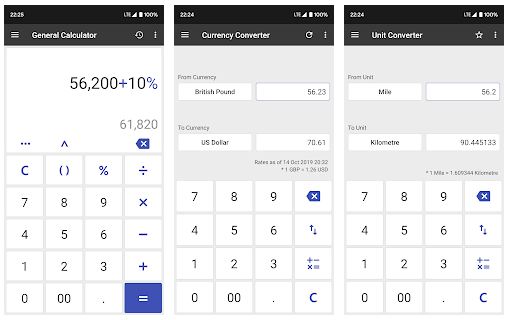 ClevCalc – How To Download Calculator App?
Android and iOS users don't need any guidelines to install ClevCalc App on your smartphone or tablet. Because it is there in both Google Play Store as well as on the Apple App Store.
In order to set up this app on your PC, you can do that with the help of the BlueStacks or Nox emulator.
How To Use?
You should open the ClevCalc app and then navigate to the right calculation mode as per your preferences. Then you can see the features that are made available along with it.
You can go through those features and pick the best calculation mode to proceed with. Then you will be provided with the chance to use the calculation feature and get your work done in a breeze. Using this calculator app is simple and as easy as that.
Also Read: Install Photomath App on your PC