Selling products online is trending. That's because we are familiar with the technology and we prefer to experience the benefits that come along with online selling. Even though most of us are interested in selling products online, we often come across difficulties while trying to set up an online store to get the job done. This is where Digital Dukaan by DotPe will be able to help you with. It will help you to start your online store within just 15 seconds and start selling products.
Features
You don't need to be a person with sophisticated technical skills to use Digital Dukaan App and create your own online store. You will be provided with an easy to follow wizard, where you have to go through the steps and get the job done.
On top of that, you can gain access to a free catalog maker. You can use that and enhance the overall functionality that you are getting out of the online store.
After creating an online store with Digital Dukaan, you can easily share it as well. The Digital Dukaan App is helping you to share the online store directly via WhatsApp so that your friends and family members will be able to contribute towards your first few sales.
The sales management system that comes along with this app is efficient and it will help you to take complete control over your sales. There is excellent customer support available as well.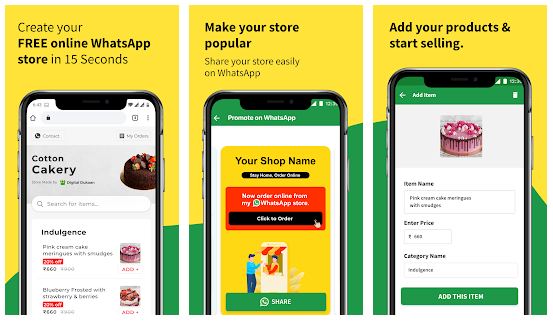 Digital Dukaan by DotPe – Download Online Store App
Here are the steps:
Go to the Play Store
Search for Digital Dukaan app
And then tap on install
How To Use?
When you are creating an online store, you will initially be asked to enter the store name, number, and address. Then you can add your products for sale and start selling. Now you can sell easily using Digital Dukaan by DotPe App from your smartphone.
Related: Download Meesho App on your PC