Kissht can be considered as the fastest and the most popular credit app available for the people in India. If you want to purchase financing, all you have to do is to stick to the app.
On the other hand, the app will also be able to deliver a helping hand to the people who have requirements related to the revolving lines of credit as well. Once you get the app installed, you can stay away from visiting the banks or financial companies to get your financial requirements catered. All you have to do is to stick to the app and it will cater to the needs that you have.
Features
The app is offering many different loan types for users. You just need to go through the different loan types that are available for you to purchase online and buy the best one out of them.
For example, if you want to get a product that you want such as a camera, laptop or smartphone, it will be able to deliver all the assistance you need.
People can buy the product from the Kissht platform itself. Then you can configure the app accordingly so that you will be able to make the repayment within 3 to 24 months. The APR will be calculated based on the duration.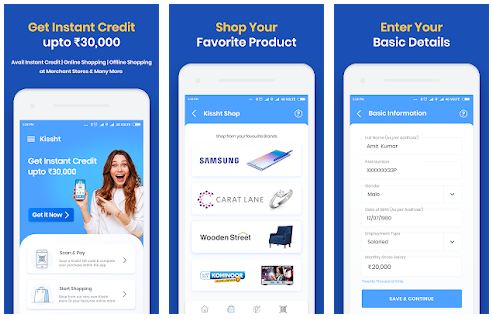 Kissht – EMI without credit card App Download
Smartphone users can download the Kissht App from the Google Play Store or App Store. But, in order to set up the application on your PC, you can do that with the help of an emulator.
How To Use?
If you want to start using Kissht, you need to sign up for an account. Then you will be able to explore the different financing options that are made available through the app.
You can go through those financing options and make sure that you pick the best financing option. You can then double-check the repayment duration and APR, and then confirm the financial assistance you want to get.