If you are a fan of Marvel superheroes, MARVEL Future Fight is the best game that is available for you to play. This is an RPG game, which will help you to play from the roles of favorite Marvel superheroes.
There are over 200 different Marvel characters available in the game. You will be able to unlock them and play from those characters as you proceed with the game.
Features
When you start playing this game, you will be able to receive all the support that is needed to keep your characters upgrading along with time. Then you will be able to equip them with new skills as well.
On the other hand, it is possible to build your own classic teams on the game. For example, if you want to build a team such as X-men or Avengers, you are provided with the chance to do it.
You will also be able to customize the specific characters as well. In order to help you with that, you have the chance to pick from a variety of uniforms.
There are epic quests available throughout the game, which can deliver the support needed to upgrade the characters. Along with the game, it is possible to unleash some of the characters on it as well. On top of that, it is possible to experience thrilling actions in the game.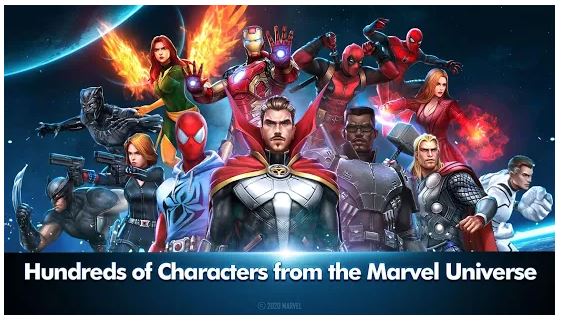 Marvel Future Fight – Download App on Your Android & iOS
Follow the below steps:
Launch the Google Play Store or App Store App icon from your mobile.
Tap on the search box and then type Marvel Future Fight App name in the search bar.
After finding the app, click on the install button.
How To Play?
You can pick your favorite Marvel character out of the game and venture into a fight with another character. You can pick the opponent character on your own or you can allow the game to pick that opponent character for you. Similar to single play matches, you can even build a team and go ahead with team matches on this game.
Related: How to install MARVEL Future Fight game on your PC?